Our specialist Hire division gets involved in all types of projects across the length and breadth of the UK. Some are relatively straightforward – and our experience and instinct is usually enough to be able to recommend a safe approach and the right machine to conduct works efficiently.
However, as a specialist services provider, we pride ourselves on our ability to self-deliver the unconventional when it's required and reach the places other providers might not go.
We do so with an impressive in-house fleet, confidence in the skill and experience of our operators and with the added reassurance of our free site surveys.
Here are five recent projects that demonstrate you're in the safest hands with NSS when it comes to challenging hire requirements.
Over water
The task was initially surveyed by one of our hire experts who met with the client on-site a few weeks before the job was scheduled to take place. This helped us to accurately identify the client's requirements and visualise the scope of works. Whilst on-site, all potential issues and risks were assessed so we could make recommendation of the most appropriate machine from our extensive in-house specialist fleet.
One obvious potential issue with this scene was the machine having to boom out over the water with negative weight attached to the basket. With the right machine and expertise in place the project was a huge success.
Location: Glasson Dock, Lancaster
Machines: 53m Palfinger access and 47m Bronto
Respecting heritage
Some projects require that extra degree of caution and attention. Providing access hire to a customer wishing to conduct a thorough roof survey of a 16th century Scottish castle is one such occasion. We treat all buildings with love and respect but Grade 1 listed buildings do command a higher level of due diligence to entirely mitigate against the risk of damaging castle or grounds.
As always, a thorough site survey performed by one of our Hire specialists provided the answers. Our skilled operator was able to turn up with detailed and prior site knowledge and set-up our recommended machine (63m) in precisely the right place so our customer could safely access all areas needed.
Location: Dunderave Castle Argyll
Machine: 63m Ruthmann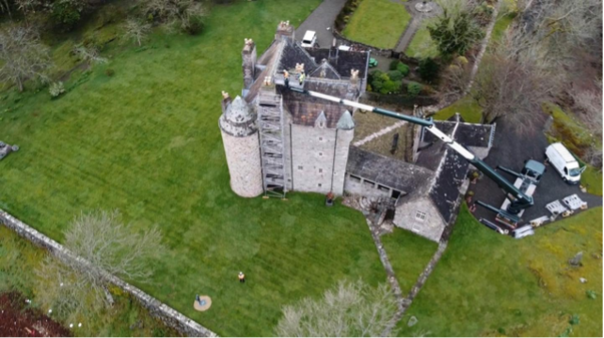 Reaching out
Servicing the lighting at this roundabout presented a number of challenges. It needed appropriate traffic management in place, a clear evening and, as always, exactly the right machine.
The 53m has an impressive outreach and after a detailed site survey our experts decided it was the perfect machine for the job.
Location: Coventry

Machine: 53m Palfinger access
Duration: 1 Night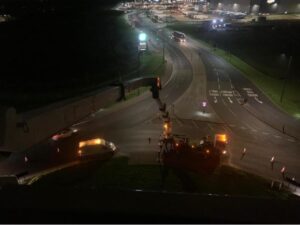 Going underground
Our customer wanted to inspect both the workshop and chimney to identify potential conversion opportunities. We were approached to provide specialist truck-mounted platforms to enable a thorough site investigation.
Initial observations identified various underground cavities that would restrict any works – some large enough to accept a double decker tram with ease. These areas had to be cleared of decades of all kinds of rubbish.
Once cleared, NSS returned to site and performed a detailed risk assessment to identify how access could be achieved within one of the workshops to allow damaged roofing panels to be removed. With suitable floor protection installed we returned to the workshop and began works.
Location: Tram Workshop, Edinburgh

Machines: 30m Palfinger access & 48m Palfinger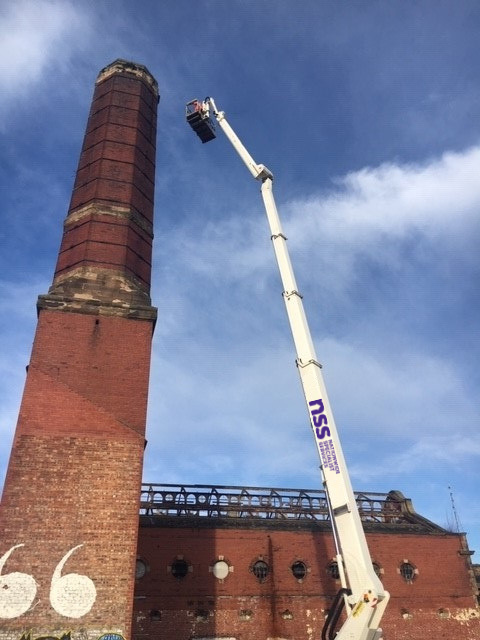 Tight access
This was another potentially tricky job solved by our free site-survey and expert advisory service. The client required the right height of machine to ensure they could prune the tree from top to bottom on a tight street where the machine would need to be able to narrow jack.
After identifying other potential issues and risks with the job, the 30m Palfinger proved to be the right machine for the task, safely providing smooth access to the whole tree.
Location: Rochdale
Machine: 30m Palfinger access
Duration: 1 day